"A Winter's Tune" Returns (Again) in 2021
There will be an in-person "Concert of NEW and Traditional Songs for the Winter Holiday Season" this year – at a new time and a different day. 
SAVE THE DATE: Saturday EVENING, December 11, 2021 for "A Winter's Tune"!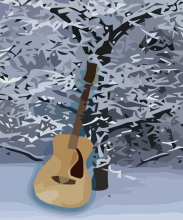 Video Music From AWT to You!
While we were home for holidays in 2020 – we found some tapes from that dusty box from the attic. Take a couple sled runs down memory lane with the "A Winter's Tune" videos below.
"Winter in West Michigan" - YouTube Playlist of CD Tracks
"Red Eye Pilot" - Dave Boutette
"Nothing Burns As Hot As You & Me" - Chance Jones
"Holly Jolly Holiday" - J Oscar & Octoberday with Robin Connell
11th Annual "A Winters Tune" (2007)
"Carolyn, the Caroling Cowgirl" - Susan Harrison
"Reindeer Shuffle" - Susan Harrison