"A Winter's Tune" in 2022?
Alas, there will not be an "Concert of NEW and Traditional Songs for the Winter Holiday Season" this year. 
Please enjoy the videos from past AWT artists and performances on this page.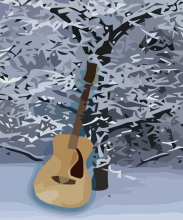 Video Music From AWT to You!
While we were "home for holidays" (pandemic) in 2020-21 – we found some tapes from that dusty box from the attic. Take a couple sled runs down memory lane with the "A Winter's Tune" videos below.
"Carolyn, the Caroling Cowgirl" - Susan Harrison
"Red Eye Pilot" - Dave Boutette
"Reindeer Shuffle" - Susan Harrison
"Winter in West Michigan" - YouTube Playlist of CD Tracks
"Nothing Burns As Hot As You & Me" - Chance Jones
"Holly Jolly Holiday" - J Oscar & Octoberday with Robin Connell
11th Annual "A Winters Tune" (2007)